A placebo is anything that seems to be a "real" medical treatment — but isn't. Psychologically you feel good because you think the placebo is working.
In 2020 during the Covid-19 outbreak we have the placebo of face masks.
I don't wear them. I don't go anywhere they are required. Those businesses who wish to enforce the the placebo don't get my business. I'm not going to give up my liberty.
There is a meme on Social Media that displays the psychological feel goods for wearing a face mask in public. It's just the control group on the placebo.
But lets talk facts. Not mine, but the facts from OSHA and what they say about face masks. OSHA is a trusted source when it comes to protecting the health and welfare of the American worker. And they have a lot to say about face masks.
The N95 masks are designed for working in a contaminated environment. These masks do not filter anything going out of it. That means if you encounter someone who has Covid-19, the virus can easily escape their mask.
Surgical masks are designed for working in a sterile environment. Like an operating room in a hospital or other "clean room". They do filter outgoing but not incoming air. They become contaminated and clogged quickly. If they are worn in public they become spreaders of viruses. This is because they need to be changed or tossed out about every 20 minutes in non-sterile environments.
Good old cloth masks. Yes even the homemade ones. These don't filter anything in any direction. They are very good however at trapping exhaled carbon dioxide and moisture. This moisture quickly mildews and becomes micro-mold particles over night if they are unwashed. Then you breath that back in the next day which causes dry coughing, enhanced allergies, and a sore throat. You are much better off not wearing a mask at all rather than this one.
But there are still skeptics. They believe the placebo is working. But these masks are nothing more than an accessory to your wardrobe. The latest style and fad of what to wear. And here is the proof of that from my local Target selling these accessories.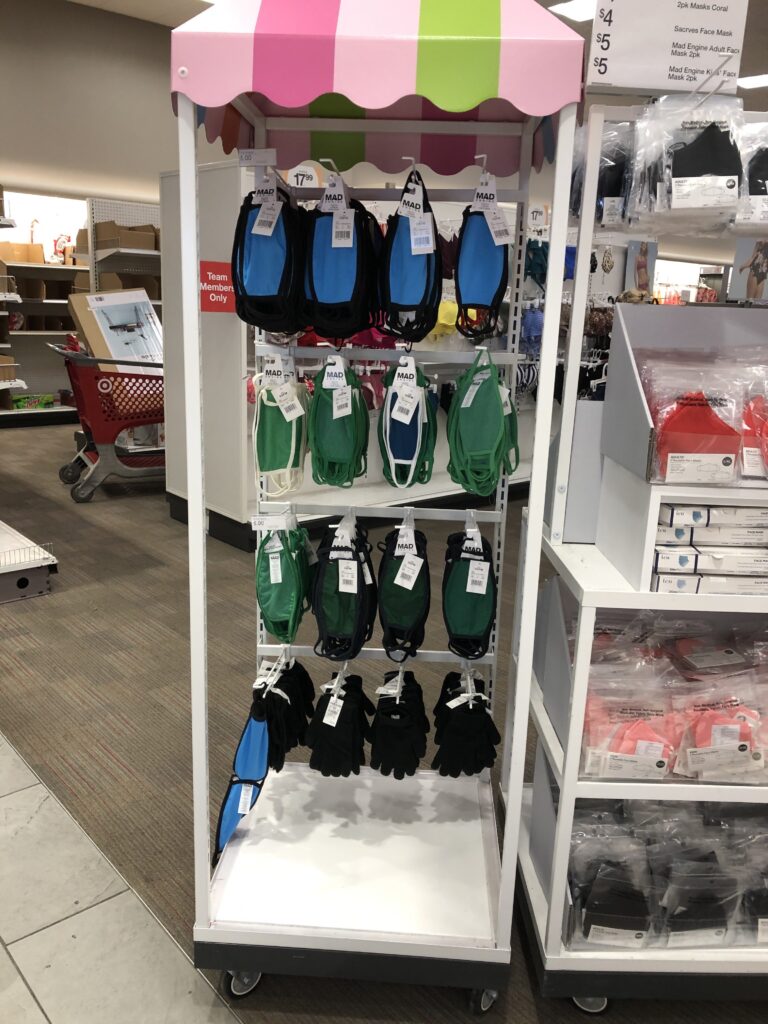 There is no Target associate at this face mask display. Anyone can walk up. Try on a face mask and put it back. Contaminating every single one of them on the display. Sending the buyer home with a mask full of disease and death to infect themselves and their family.
If face masks were about a deadly virus and protecting the people against it. There would be an associate here ready to sanitize any mask not being purchased. And they would have to have it manned and monitored all day long.
But it's not. It's like every other accessory display. So what is the real agenda?