Another Leftist meme showing how ignorant the Left really is today. Unfortunately the useful idiots still buy it.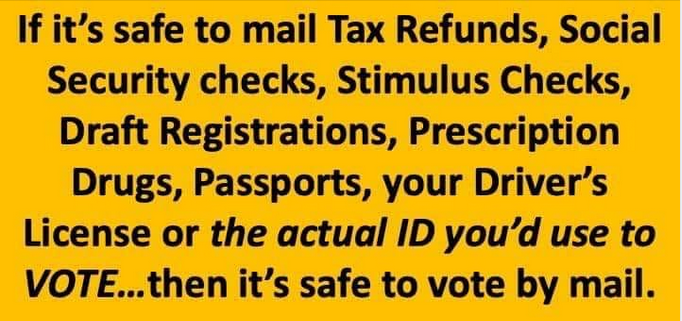 The whole problem with this meme is none of these activities are safe to mail. Every single one of them has been intercepted, lost, or has been used fraudulently by another party.
Checks are stolen every day from the postal service worldwide. If you want to securely send funds use direct deposit, Paypal, Venmo, bitcoin, or some other electronic transaction that is more secure than dropping a check in the mail and hoping it gets there.
Draft registrations, who uses this term? This is Selective Service registration that every male must fill out when he turns 18 years of age. I did it, but back then other methods just weren't available yet. And these too can get lost in the mail or be filled out fraudulently. It does happen.
Prescription drugs being sent via the mail is a lucrative business and supply chain for those that abuse prescription drugs. Lots of issues with this and total lack of safety for sending such substances in the mail system.
Passports, Driver Licenses, or other State issues IDs. These are stolen and used fraudulently all the time. From kids with a fake or false ID so they can buy alcohol to the very depth of identity theft.
But then there is the granddaddy. Voting by mail. This one, unlike all the others, has three avenues of potential fraud to be committed.
Requesting the ballot.
Receiving the ballot.
Returning the ballot.
All the others the initiating transaction is in person or at least more secure than just filling out a form and sending it through the mail. And once received these other items are kept.
Not so with voting by mail. It is just not safe.
And until we have a secure solution, blockchain voting. It should not be the norm. and should only be used in extreme cases. Get to the polls in person to cast your vote.