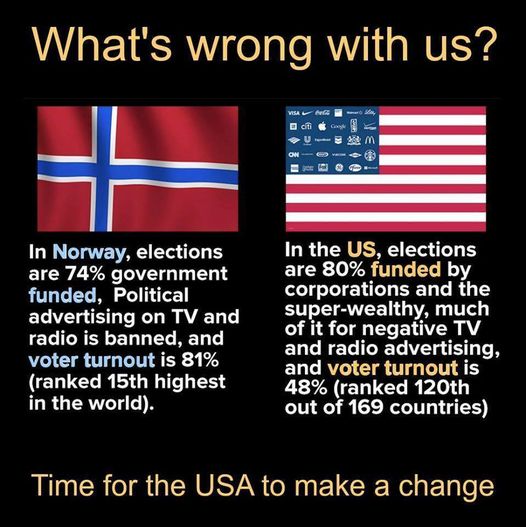 Nothing is wrong with us.
Always remember government funded is taxpayer funded. Your dime and your dollars being used to pay something else where you want it or not. Governments don't have any income that is not taken from the people.
So no TV or radio advertising in Norway. That does leave print advertising which may or may not be negative.
What isn't indicated in the meme is that Norway is a Unitary parliamentary constitutional monarchy. That means the head of state is their hereditary King. The head of government is a prime minister (appointed by their one house parliament.)
Norway also has a multi party political system. No one party ever has the majority. It is a coalition government that can change with the wind.
Norway's high voter turn out is due to the multi party system and the universal voter registration in a national database.
As mentioned previously, Norway has a unitary parliament. That is one house of parliament. Unlike the United States that has a 2 house legislative body. Also in Norway one votes for the parliament members nationwide. The "out of state" influence we in the USA despise.
I give my own money to candidates I choose to support. Yes they do get large donations from corporate interests and wealthy donors. That does mean that I'm not footing the bill for the election through taxes. I don't want my taxes going to a political party that is against everything I stand for in life.
Negative advertising is as old as politics. There is Roman graffiti on the walls of Pompeii that is still readable today that are negative political advertisements. Yes it could be outlawed but that would make politics boring.
Voter turn out in the USA is lower than it should be in my opinion. And it's due to voter apathy and voter ignorance. People don't think their vote counts. But the recent congressional elections in Iowa show that it does. The vote was 6 votes different for one congressional race. Just 6 votes. Your vote does count.
In the USA, we are a Constitutional Republic. There are local elections, district elections, state-wide elections, and national elections. We have a 2 house legislature. The House and the Senate. The House is elected by region and the Senate elected state-wide.
In the USA, someone in Iowa doesn't vote for some representative for another district or an other state like they do in Norway.
In the USA, we also cast a popular vote for our Head of State and Government. In Norway this is 2 separate positions not decided by the people at all in either case. Also the Prime Minister of Norway hold Executive and Legislative powers. Thus there is no separation of power in Norway.
If anyone should make a change. It should be Norway not the USA.
Of course if you prefer the Norwegian way over that of the USA. You may always try to immigrate there. So here's how to become a citizen of Norway.
1) You must have a job offer waiting for you there
2) You must be able to financial support yourself and any dependents
3) Residency for 7 years
4) You need to be fluent in Norwegian
5) You need to pass a citizenship test