Well this little meme likes to come up in different versions across Social Media. The Left is of course attempting to repeat a lie often enough until it is believed. But a rational mind will see through these lies while the useful idiots will believe the lie hook, line, and sinker.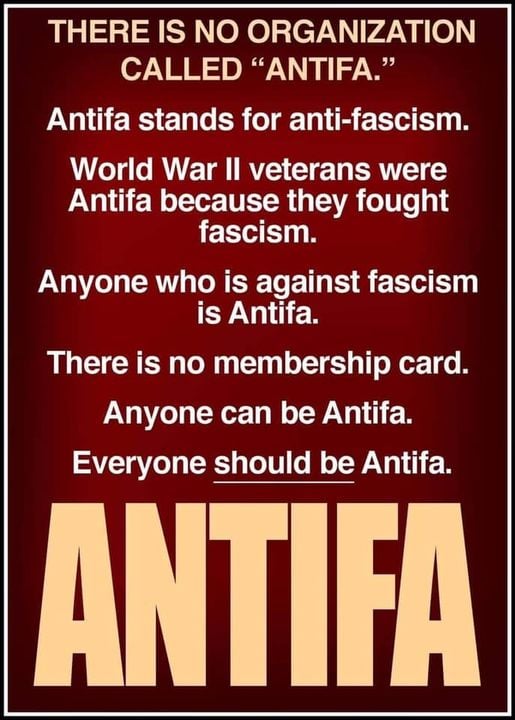 While it is true that there is no national or international organization called "antifa" with membership cards. There is a movement called antifa. That is well organized in various cells across the United States and probably beyond.
The problem with history is no one studies it or learns it any more. It's all been sanitized to make the United States look like an evil oppressive state of decay. Although the hint of truth is there the meme doesn't give the whole story.
Antifa is a loan word from the German Antifa, where it is a shortened form of the word antifaschistisch ("anti-fascist") and a nickname of Antifaschistische Aktion (1932–1933), a short-lived group which inspired the wider antifa movement in Germany.
Antifa is a political movement in Germany composed of multiple far-left, autonomous, militant anti-fascist action groups and individuals who describe themselves as anti-fascist. And was setup by the Stalinist Communist Party of Germany.
That is where Antifa comes from and what Antifa really means and represents. A Leftist pro Socialist, anarchist, anti-Capitalist, militant group that hides their identities when engaging in blatant criminal activities including assault, denial of right to assemble of other groups, arson, and murder.
World War II veterans were never Antifa because they believed in the American dream which Antifa does not.
Anyone who is against fascism is not Antifa. Antifa is a Leftist movement just as fascism itself. Those that champion Liberty, Justice, and Freedom are not Antifa as they are against all forms of Leftist movements and governments including fascism and Antifa.
It is true that anyone can be Antifa. But anyone who is has been brainwashed into thinking Marxism or it's bastard children can lead to a utopia. And it never has since everywhere it has been tried has failed.
No one should be Antifa, unless you enjoy causing pain and suffering to others who disagree with you. Or you revel in criminal activities and mayhem.
Take a look at Antifa's symbol. A black flag over a red flag. That is the anarchist flag over the socialist flag. Nothing really more needs to be said.